High-quality, comprehensive work on all types and manufacturers (Samsung, Philips, LG, Sony, Sharp, Panasonic, Toshiba and others) Repair of LED, OLED, QLED and LCD TVs Vilnius, Kaunas, Klaipėda.
Vilnius, Kareivių g. 11A (Rimi), Tel. 8-679-74770
Kaunas, Baltijos g. 58 (Rimi), Tel. 8-656-95553
Klaipėda, Šilutės pl. 35 (Banginis), Tel. 8-617-77731
What kind of TV repair services are available?
Technical diagnostics
Power circuit repairs
Control unit repairs
Repair of high bumps
Repairing broken sockets
Reprogramming control chips
Changing colour blocks
Motherboard / motherboard repairs
Correcting signal disturbances
Changing screens
Issuing a diagnostic report for insurance
Repairing problems with switching on
Troubleshooting other faults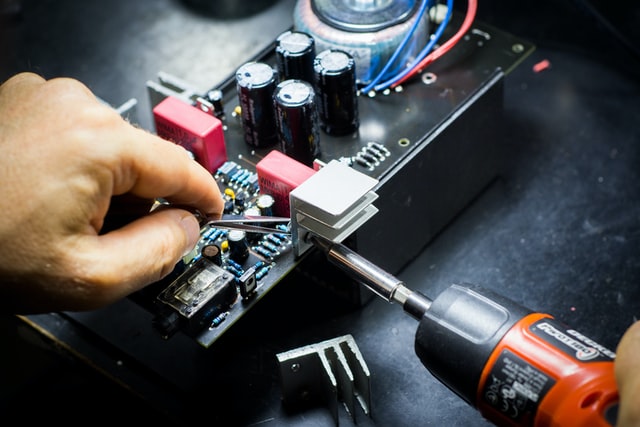 Frequently Asked Questions (FAQs)
Which TV manufacturers do you repair?
We repair Samsung, Philips, Samsung, Panasonic, Sony, Xiaomi and other TVs.
What types of faults do you repair?
Repairing motherboards, broken sockets, power circuits and other faults.
What is the cost of repairing TVs?
The exact price is only determined after diagnosis. Repair costs start from €25.
Do you guarantee the repair?
Yes, all work is guaranteed.
In which cities can I have my TV repaired?
Vilnius, Kaunas and Klaipėda. Our Contact.
TV repair - indicative price list
Preliminary prices are provided. They do not include prices for parts, which are determined in the course of dismantling the TV set. After the diagnosis, which we will carry out within 1 day, we will provide a list of faults, prices and a timeframe. Repairs usually take 1-7 days afterwards.
Diagnostics - 5 euros
Repair or replace a broken socket - from 25 euros
Repair or replacement of any other part (power supply unit, control board, power circuit, high voltage inverter, display, T-Con board, etc.) - from €45
Issuing a defect certificate for insurance - €20 (covered by insurance)
Common faults and TV repairs, tips
Here are some tips on how to deal with a TV failure. Sometimes, before you seek professional TV repair, we recommend that you carry out certain steps yourself to make sure that the TV is really broken.
No picture on the LED TV screen
Or you turn on the TV, but only a black screen is displayed. In this case, if a video signal is coming to the TV from a connected external device, the power supply board is probably faulty. Power supply failures are usually caused by power surges that damage capacitors and transistors. When the TV is disassembled, the capacitor on the power supply board will be bulging and leaking. Repair of this fault is done by replacing the faulty components with good ones. In this case, please contact us for TV repair.
LED TV shows a single colour picture - just blue, green or black
This problem is often caused by an external device that, for one reason or another, is not transmitting a high-quality video signal. In this case, first make sure that the TV is set to the correct input source. A bad cable may also be the cause of the problem. Try replacing the signal transmission cable (usually HDMI) with another one. However, the problem may also be caused by the TV service provider. Please contact the provider. If you are watching free TV, the signal may be too weak. Try to adjust the aerial properly. If the problem persists, the HDMI input jack itself may be damaged and needs to be replaced.
Video is displayed but no sound
Unplug the TV from the power socket, then press and hold the TV's power button for 10 seconds. Wait a minute, then plug the TV back into the socket and press the power button. If the problem persists, try connecting the TV to other speakers. If the sound comes out when you connect other speakers, the problem is with the TV's speakers. However, if there is no sound through the external speakers, the problem is probably with the TV's motherboard, where the chip responsible for the sound is faulty. In this case, please contact the following for repair of your TV Elmeisters specialists.
Your TV is not connecting to Wi-Fi (wireless internet)
Reboot the router, reset the network settings, or reset the whole TV to factory defaults. If nothing helps, the motherboard may be faulty and you may need to seek repair.
Lines or dirt visible on the screen
First check if lines or cracks appear when the settings menu is activated. If the lines disappear when the menu is open, all you need to do is to restore the factory settings. However, if the lines or cracks also appear in the menu, it is the screen itself that is bad and should be changed. However, in practice, replacing a TV screen is usually not cost-effective, so if you have home insurance, we will issue a defect report and your insurance may reimburse you in part or in full for the cost of buying a new TV set, or TV repair costs.
Below is a YouTube tutorial on how TVs are repaired. Also, always check the following before bringing your TV in for diagnostics, check your TV yourself - maybe your TV is fine and the TV provider is to blame.
Need professional TV repair? Contact our contacts Vilnius, Kaunas, Klaipėda.
TV repair news and tips